Public transport
There are a number of bus routes available at Toowoomba Hospital. The 901, 902, 905, 907 routes service Toowoomba Hospital.
You can find more information about buses on the TransLink website or call 13 12 30.
There's also a taxi rank at the hospital.
Patient pick up and drop off
The main drop off zone is at the front of the hospital near the emergency department.
For medical oncology patients, there's a drop off zone and parking at the back of the hospital.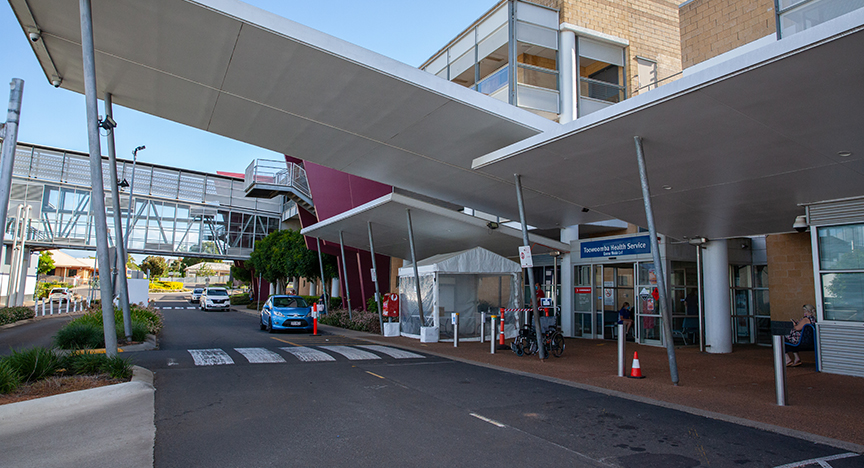 This is the drop off zone in front of the Toowoomba Hospital Emergency.
If you need to borrow a wheelchair, please ask a volunteer at the main entrance.
Parking
Our multistorey car park is open to visitors and patients 7 days a week.
Parking costs as at 1 May 2022
| Time | Full parking costs |
| --- | --- |
| 0 to 30 minutes | $3.60 |
| 30 to 60 minutes | $7.20 |
| 1 to 1.5 hours | $10.80 |
| 1.5 to 2 hours | $14.40 |
| 2 to 2.5 hours | $18 |
| 2.5 to 3 hours | $19 |
| 3 to 24 hours | $19 |
You can buy a 5 day visitor pass, by pressing the phone icon on screen, at the pay stations on Level 2 of the car park for $27.
If you lose your ticket, you'll be charged $19.
The parking costs help the Toowoomba Hospital Foundation support our patients.
Disabled parking
Disability access is available to all inpatient areas and the multistorey car park.
Concessional parking
Concessions for free car parking at the Toowoomba Hospital are available to patients or carers who:
hold a Pension or Healthcare Card
hold a Disabled Parking Permit
have long term hospital stays or treatment needs
require ongoing cancer or dialysis treatment
have special needs and require assistance
are Geriatric Adult Rehabilitation and Stroke Services (GARSS) or Rehab attendees
frequently attend the hospital for appointments
have financial hardship.
Please note $9.50 rates are applicable to oncology and QAS patients only.
If you need a concession to park at the hospital, please visit the Foundation Office Monday to Friday from 8:30 am or call 07 4616 6166. 5-day passes and $9.50 rates are organised through the multistorey car park intercom on Level 2.